When the hands raising above the head, the Five-Starred red flag is about to rise, and the national anthem is singing, the happiness inside us only from the arrival of National Day
All members and staffs of UR Lighting get together to celebrate the 70th Anniversary of the Founding of China.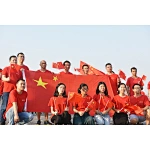 UR Lighting's annual sports meeting officially opened on August 31, 2019. On this day, our company held a company-wide mobilization meeting.